The Lioliou family have been growing their products at the foot of Olympus for five decades, with respect for the people and the environment. For the last twenty years, their products are organic, certified and highly recognized, as they can be found in many organic products stores throughout Greece.
Since 2006, in the certified Diodora manufacturing plant, we have been making the first Greek organic apple cider vinegar, Olympus Apple Cider Vinegar. Produced using natural fermentation processes, it matures for at least one year, has a unique natural characteristic aroma and golden color, without dyes and chemical additives.
After years of research, we are proud to present to you our patented, new and unique products, developed under the strict guidance of the University of Thessaly. The Olympus apple cider vinegar is now fermented with turmeric, ginger and ginseng, offering you the maximum healing properties of these roots, besides the many benefits of the apples themselves.
Apple Cider Vinegar – New Product Line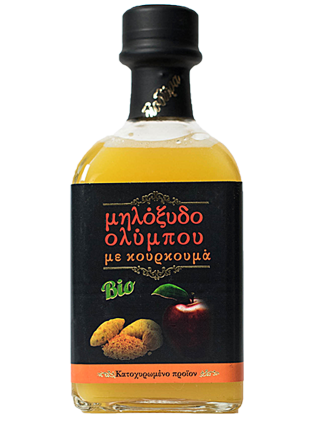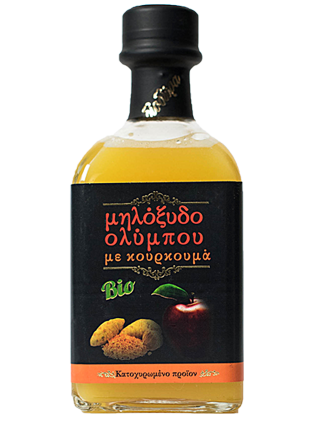 Apple cider vinegar with Turmeric
250 ml bottle.
–Has natural anti-inflammatory properties; it is the "cortisone of nature" without its side effects.
–Reduces symptoms of rheumatoid arthritis.
–Drastically increases the body's antioxidant capacity.
–Protects the liver from toxins.
–Can be used as an effective and safe adjunct to the treatment of patients with major depressive disorder.
-Works against anemia.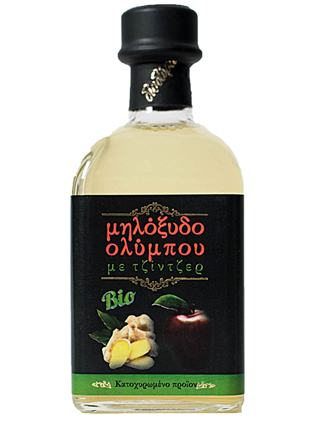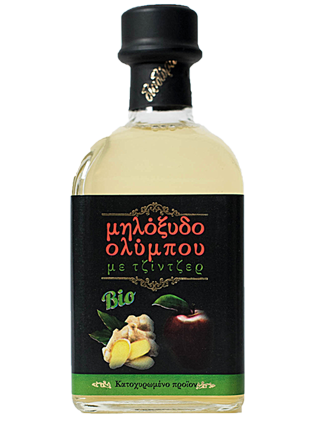 Apple cider vinegar with Ginger
250 ml bottle.
–Eliminates abdominal bloating by aiding the digestive tract, stimulating the muscles of the gastrointestinal system and triggering the breakdown of food.
–Helps in weight loss by reducing the accumulation of fat in the body and breaking it down into energy.
–Lowers blood sugar.
–Fights infections and bacteria, especially those that cause gingivitis and periodontitis.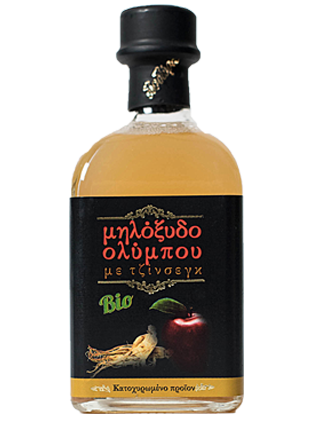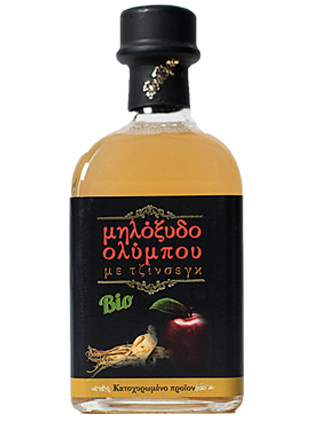 Apple Cider Vinegar with Ginseng
250 ml bottle.
–Improves memory, mental function and clarity.
–Reduces the negative effect of stress on the body as it lowers cortisol levels.
–Increases physical endurance by dealing with the symptoms of exhaustion.
–Increases the body's defense against infections.